The Series 2000 modular plenum units are standard modular package versions of the patented CosaTron System, designed to easily adapt to standard air handling systems up to 40 tons during initial construction or retrofit.
Available in two models to fit any design need:
Model 2120 ( up to 10 tons) is the low profile version, available in either 16″ or 20″ heights by up to 60″ wide.
It is designed for easy installation above most lay in ceilings. It can be installed in conjunction with the air handling unit, fan terminal unit, heat pump, small cabinet fan, fan coil unit or in the duct.
Model 2220 (up to 40 tons) is available in standard plenum sizes of 24″, 36″ or 48″ high and up to 96″ wide. It is designed to match up to our Model 1400 filter plenum, or with filter plenum sections manufactured by others.
Perfect for new installations in buildings  such as manufacturing clean rooms, conference and meeting rooms, lounges, cafeterias, medical labs, offices, restaurants and waiting rooms.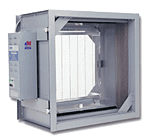 Consists of a UL Approved Power Generator, standard grid assembly mounted in a support frame, bleed resistor, access door, safety door and 4″ filter track.

Features and Benefits at a Glance
For Building Owners & Managers
Reduced initial capital investment
Reliable operation
Enhances effectiveness of filters in AHUs
Reduces operating costs
Leaves facility cleaner
Quiet operation
Easy to maintain
For Consulting Engineers
Simple to specify
For use in any application or building type
Proven to make the particulates larger, so they can be more efficiently removed
Easily integrates into standard size plenums
Quiet Operation
No moving parts
Legacy of proven results since 1958
Made in the USA
State of the art manufacturing
For Contractors
Flexible manufacturing capabilities
Easy to install
Works with standard filter sizes and common brands
Reduced installation expenses
Easy to replace filters
Reduced warranty and post installation service
5 year warranty