The CosaTron Fan-Powered Systems are designed for supplemental air cleaning in temporary or permanent situations. These supplemental air cleaning systems offer flexibility and convenience – anywhere the existing HVAC system could use some help. They are especially useful in health care applications and industrial applications when additional air changes may be needed.
When you are in need of an air cleaner that is independent of the HVAC system, Series 3000 is the answer. Like all CosaTron products, the Series 3000 is a contaminant control system that provides cleaned re-circulated air where it is needed the most without generating ozone or increasing the carbon dioxide levels.
Series 3000 units are compact and available in a ceiling mounted or a roll around version. Use the Series 3000 units to control the dangerous build up of gases, dust, irritants, smoke and offensive odors generated by activity in a specific area or generated by infiltration from another adjacent area.
The Series 3000 family of products includes: Room Vent and Contam-a-trol Systems.
The RoomVent is a compact ceiling-mounted fan-powered version of the same technology featured in the larger CosaTron systems.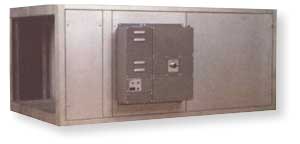 The unit can be suspended above or below the ceiling and is available painted or unpainted.
These units are acoustically lined and fan powered.
They are suitable for both a temporary solution and permanent installation.
Available in 3 sizes.
The RV750 is a stand-alone, roll-around, mobile version.
It is designed for easy movement through corridors and hallways.
Rolls easily to the areas where you need it most to give you the additional air changes you need for optimum air quality
Ideal for leased spaces, where you don't want to invest in a permanent installation
Vertical airflow unit designed to easily move thru hallways and doorways wherever you need immediate air purification.
No installation required, just plug into a standard 120v outlet.